1. If an office tower or a shopping mall is keen on installing TimeTec Parking, what is the process and the investment cost?
TimeTec offers different pricing models for TimeTec Parking System, depending on the specific requirements of a client. We welcome interested parties to email specific requirements to info@timeteccloud.com, and our team will revert with a more solid proposal and costing for your consideration.
2. We are a parking operator that are managing a few parking operations. If we were to adopt TimeTec Parking System, can it integrate and co-exist with our old parking system?
Yes. You can upgrade your parking system to TimeTec Parking System and integrate the old system for seamless parking management.
3. Our office tower plans to set up a private parking system for guests and employees only, rather than a public cloud parking system. Can TimeTec Parking fulfill the requirements?
Yes. You can set your preference on the TimeTec cloud server to choose your parking area for private use instead of being open to the public.
1. Are TimeTec Parking System integrable with other cloud solutions such as TimeTec VMS and TimeTec Access?
Yes. Integrability is the whole idea behind TimeTec Cloud; to build an effective cloud ecosystem for smart offices. For example, TimeTec Parking is integrable with TimeTec VMS, Visitor Management System for office towers to manage visitors for better automation and control.
2. Do you provide an advertisement tool in TimeTec Parking where owners can push advertisements to users when they arrived at premises such as a shopping mall?
Yes. TimeTec provides two systems to support owners in that area. One is i-Ad for the push advertisement feature, and another is i-Merchants for near field merchants listing based on distance. Both are integrable with TimeTec Parking to add value to the system.
3. What other solutions TimeTec offer that can add value if they are integrated with TimeTec Parking?
TimeTec offers TimeTec TA for Time & Attendance and TimeTec Leave for employee leave management; both are Workforce Management Systems. The integration of these systems with TimeTec Parking will provide employees who are also season parkers to free their parking lots for Parking Airbnb (Please refer to Parking Airbnb) for better automation.
On License Plate Recognition (LPR)
1. Do you have a License Plate Recognition (LPR) that works with TimeTec Parking System?
Yes. We have the TimeTec Smart License Plate Recognition as one of the access methods for TimeTec Parking, which can use for both casual and season parking.
2. How does the LPR camera know when to view the vehicle's license plate?
An LPR system must have a vehicle detection loop or an induction loop. The loop will trigger the LPR camera to read the vehicle's plate number when the vehicle passes and arrives at a certain point. The induction loop consists of the loop, loop extension cable and a detector. Most boom gate installers are familiar with induction loops. Click here for more information
3. What is the TimeTec Smart LPR access rate?
The TimeTec Smart LPR deploys OCR, Optical Character Recognition Technology, that converts images it scans into text format. The access rate also depends on the external environment, such as the image quality. For example, if a car plate number is covered with mud which causes a readability problem, it will affect the accuracy. In general conditions, the access rate of TimeTec Smart LPR is 99.5% accuracy. TimeTec LPR also is built with deep learning technology to improve its accuracy from time to time.
4. The car park operation can't afford the failure of LPR reading even when the chances are low to avoid long queues and complaints. What is your solution to avoid this from happening?
TimeTec Parking provides the best backup parking access method in case of LPR failure, which is the TimeTec BLE-2 with QR code reading.
1. What is season parking?
Season parking is a parking type that permits vehicle owners to park their vehicles regularly, near their home or workplace, at a fixed monthly rate.
2. Does TimeTec Parking System support both individual and company booking for season parking?
Yes. TimeTec Parking System supports both.
3. Can season parkers receive renewal reminders and pay online?
Yes, TimeTec Parking System provides a feature for the reminders to be sent with an online payment option.
4. What is Company ID for Season Parking?
This is a unique ID assigned by parking operator that is auto-generated by TimeTec system for a specific company; which the company has been allocated designated parking lots at a parking site to ease the purchase of season pass for its employees.
5. Can season parkers pay online?
Yes. Season parkers can download TimeTec Parking App or Web to pay via credit card/debit card, e-Wallet, or FPX. With the App, parkers can track the Invoices and payment history online.
6. Can season parker choose his/her parking lot when they make a booking?
Yes, if the parking operator allows parkers to choose their parking lot, the system will display the parking floor plan for choosing,
7. TimeTec Parking System supports what types of season pass parking access?
We have a variety of parking access for season pass for a parking operator to choose from, namely RFID card, RFID tag/TnG RFID tag, License Plate Recognition (LPR) or QR code.
8. Why the terms and conditions and application forms not the same for different parking sites?
Yes, the terms and conditions and application forms are not the same for a different site. This variety is observed because our system allows parking owners/parking operators to set their own terms & conditions and booking application forms according to their requirements for season parking.
On Touch 'n Go Card (TnG) and Touch 'n Go RFID
1. What is Touch 'n Go card?
The Touch 'n Go card contains Mifare contactless technology used as the sole electronic payment system (EPS) by toll expressway and highway operators across Malaysia. The Touch 'n Go card is also one of the most popular used cashless payment and access methods for parking sites in Malaysia.
2. What is TNG RFID?
The TNG RFID Tag is a sticker embedded with a radio frequency chip, and it is unique to each user, usually affixed to either the windscreen or the headlamp of a vehicle. The tags are tied to the Touch 'n Go eWallet and used as a form of electronic payment for tolls across the country, providing drivers with a safer, hassle-free drive. Soon Touch 'n Go will expand this electronic payment mode to other facilities, including paying for fuel and parking in Malaysia.
3. What is the uniqueness of TNG RFID to be used in parking?
The TNG RFID enhances the parking experience. Besides being cashless and seamlessly integrated with TNG eWallet for auto-deduction of parking fees, the TNG RFID touchless feature automates the uplifting of a boom gate at the entry and exit points, in line with the future parking trend.
4. How to install the TNG RFID Tag?
i.Clean the surface of the windscreen or the headlamp.
ii. Peel off the TNG RFID Tag.
iii. Install TNG RFID Tag on the outside of the upper left windscreen or left headlamp (passenger side)
5. How do I register/activate my TNG RFID Tag?
i. Click on the RFID icon on the home screen of your Touch 'n Go eWallet App.
ii. Click on the 'Activate' button.
iii. Fill/Check your account details.
iv. Register your vehicle.
v. Enter the 24-digit RFID Tag number or scan the bar code on the TNG RFID Tag packaging.
vi. Activate by authorising the activation.
6. How do I use TNG RFID?
Follow the steps below:
i. Register an account on mx.touchngo.com.my
ii. Insert the TNG RFID Tag number & add your vehicle details.
iii. Link your TNG RFID Tag to your Touch 'n Go eWallet.
iv. An activation notification will be sent to you within 24 hours.
7. How durable is the RFID sticker?
According to Touch 'n Go, the TNG RFID sticker is made to last for an average of five years and is made of highly durable material that can withstand various weather conditions, including heat and rain. It is also recommended to avoid chemical wash directly onto the sticker.
8. Can multiple vehicles linked to one TNG eWallet account?
Yes.
9. Is TimeTec an authorised System Integrator for Touch 'n Go RFID?
Yes, TimeTec is an authorised System Integrator and a Strategic Partner for both TNG Card and TNG RFID for Parking.
10. Can a parking site opt for just one TNG parking method, either TNG Card or TNG RFID?
The parking site can only install a TNG card, but the TNG Card will default as a backup system if TNG RFID is deployed. And eventually, all parking sites will have both; the TNG RFID as primary and the TNG card as a secondary parking system.
11. What is Touch 'n Go PayDirect™?
With PayDirect™, customers can link their Touch 'n Go Cards to their Touch 'n Go eWallets. The cards can then be used as normal (at highways), while our back-end systems deduct a customers linked Touch 'n Go eWallet balance.
1. What is Airbnb for parking?
It is a new concept for sweating the carpark bays by renting out the unutilized parking bay at a certain period to those who need them. For example, you are a season parker at an office tower but have been allowed to work from home every alternate week or with a job function that requires you to go outstation and abroad regularly. Hence, you can free the vacant parking bay to ease the parking bay shortage during peak hours and yield extra income or reduce your monthly carpark rental.
2. How does it work?
a. First, the parking operator/building owner/JMB (Joint Management Body) for the residential community has to agree in principle and subscribe to TimeTec Parking Airbnb.
b. Parking bay owner/season parkers will have to fill up the form, agree to free their parking bays via TimeTec Parking App whenever vacant.
c. Parkers can search through the TimeTec Parking App and view the available parking sites and bays to pre-book and pay for the selected parking bays.
d. Parking bay owner/season parkers might need to share their parking income with the parking operator/building owner/JMB.
3. Does the parking Airbnb offer long-term season parking also, rather than the short-time parking only?
Yes. It most probably offered at residential properties because the car park owners free their parking bays during the weekdays and daytime; this is known as conditional season parking.
4. How do you define conditional season parking?
Conditional season parking allows parkers to access and park during specific days and hours only, as the original parking space owners offer.
5. With TimeTec Parking Airbnb, how would parkers access the boom gate to enter and exit a condominium?
Authorized parkers will scan the QR code displayed at the entrance and exit lanes using TimeTec Parking App.
6. How would the parkers pay their parking fees?
Parkers can pay via FPX bank transfer, credit card and eWallet on TimeTec Parking App.
7. Is it secure to let outsiders park their cars in a neighbourhood?
Yes. Conditional season parking is not casual parking; it is limited in quantity, and it is for authorized parkers only.
b. Parkers are using non-transferable QR codes to access.
c. The e-form can be customized. Since the parkers usually work nearby, it is easy for the residential to carry out due diligence.
8. If the parking owner is on leave or falls sick, how could they free their parking bay during that day?
As stated in the agreement, the parking owner has to free his parking bay or make his own arrangement.
9. What is the best period for conditional season parking days and times?
The period recommended is Monday-Friday from 8.30 am to 6.30 pm excluding public holidays.
10. What are the recommended charges for the casual and the conditional season parking rates?
There are no standard charge rates. However, parking Operator/Building Owner/JMB is recommended to set their casual and conditional season parking rates lower than the regular nearby car park's season parking fees.
11. Are casual & conditional Airbnb season parkers free to park everywhere they like?
No. The parkers have to park at the specific parking bays assigned to each parker.
12. What will happen if the conditional season parker fails to pay the monthly rental?
TimeTec Parking System will auto bar them from entering the enclave after the expiry date.
13. Is there any agreement signed between conditional season parkers and the JMB?
Yes. Like any ordinary parking site, any conditional season parker must sign an agreement with the Parking Operator/JMB. We will provide a customizable sample agreement for Parking Operator/JMB to use.
14. Should Parking Operator/JMB provide a floor plan for parkers to choose from on the App?
Yes. It is advisable for Parking Operator/JMB to do so. Any available vacant carpark bays with lot numbers will be shown in green, and the ones taken will be shown in red on the TimeTec Parking App.
15. What type of residential communities suitable to offer a Parking Airbnb facility to earn passive income?
Only those gated and guarded residential communities surrounded by offices, colleges, commercial areas, or nearby LRT stations that are short of parking spaces can offer this parking Airbnb service.
16. What should a parker consider before engaging with Parking Airbnb?
A few criteria that should be taken into consideration:
a. There is a parking Airbnb site nearby your workplace and within walking distance;
b. Your working time is stable, no irregular working hours or OT;
c. The Airbnb parking rate is cheaper than your workplace's rates.
17. Can individual car park owners offer the service to the public?
No. At the moment, we only deal and sign contracts with Parking Operators/Building Owners/JMBs. Therefore, all individual parking owners have to convince their management to join the Parking Airbnb service and collectively offer their car parks via the management.
18. As a Parking Operator/Building Owner/JMB, how shall we start offering the Parking Airbnb services?
Please write to us at info@timeteccloud.com, and we will establish contact with you at the earliest.
19. Is TimeTec Parking Airbnb integrable with i-Neighbour Smart Residential Community System, and what are the benefits of the integration?
Yes, the systems can be integrated or stay standalone. By integrating the two systems, residents/parking owners can fill up the e-form via i-Neighbour to participate in the Parking Airbnb service. Besides, the monies they made from offering this service can be credited into their account every month or knock-off part of their maintenance fees.
20. Can TimeTec automates the Parking Airbnb for season parkers at office towers?
Yes. TimeTec Parking System is famous for its next activity flow. If the office tower is subscribing TimeTec TA for Time & Attendance and TimeTec Leave for leave management, the systems can integrate with TimeTec Parking Airbnb. So whenever a staff is taking leave, outstation, on-field, overseas, or work from home, his season parking bay can be automatically free for Airbnb purposes.
On Video Parking Guidance
1. Is your parking guidance system integrable with our shopping mall app in providing remote parking lot availability checks?
Yes. Our parking guidance system, be it video guidance or ultrasonic guidance, is a part of the TimeTec Smart Parking System. It provides API for integration with any third-party system. In your case, once the parking guidance system has established integration with your shopping mall app, it will provide a real-time and accurate number of available parking lots anytime a user login to their app.
2. Our shopping mall shares the same parking site with a hotel that belonged to a different business entity. This arrangement means that users can come in from the hotel's parking entrance but park at the shopping mall's parking lot and leave via the shopping mall's exit, and vice versa. By installing your parking guidance system, do you think we can split the income clearly by knowing which parking lots the individual cars have parked?
Yes. Only the TimeTec Parking Video Guidance System can achieve such an objective, but not the Ultrasonic Parking Guidance System. The TimeTec Parking Video Guidance System has been embedded with License Plate Recognition (LPR) technology to identify where a vehicle parks regardless of its entry and exit points. Therefore, it is achievable with one prerequisite condition that your parking site has to adopt the LPR parking system as the only parking method.
3. Can users use Find My Care on TimeTec Parking or any other vehicle search app for convenience?
Yes. Like parking lot availability check, TimeTec cloud-based parking system back-end supports the Find My Car feature on TimeTec Parking App or any integrated app. However, this feature only applies to the Parking Video Guidance System and not the Ultrasonic Parking Guidance System.
4. Can I use the same Parking Video Guidance System cameras to do the video surveillance as well?
Yes. The video cameras we are using for the guidance system can also serve as surveillance purposes to improve carpark security.
5. We have multiple entrances into our shopping mall. Typically patrons will take the parking lots near these entrances first. Using a video parking guidance system, can we charge higher rates for these premium zones to improve our parking revenue?
Yes. You can set different parking rates for different parking zones. The video guidance cameras can identify the bays where users park their vehicles. If the parking rates are set differently according to parking zones, you can charge users differently based on the parking zones.
On Sensitive Data Protection
1. As a parking operator who is using your cloud platform, how to protect my sensitive data?
TimeTec approach is Customer Managed Keys (CMK), also known as Bring Your Own Encryption or Bring Your Own Keys.

In a Customer Managed Keys CMK solution, there are four key processes.
• SaaS providers encrypt the sensitive data they store,
• Enterprise customers control and manage decryption keys,
• Encryption and decryption requests are sent from SaaS provider infrastructure to customer infrastructure.

Data is encrypted using envelope encryption - instead of sending the entire chunk of data to the customer's infrastructure for encryption/decryption, the data is encrypted in the SaaS provider's system using a random key, and that key is sent to the customer KMS to be encrypted. This keeps the request size small and keeps the sensitive data in the SaaS provider's infrastructure.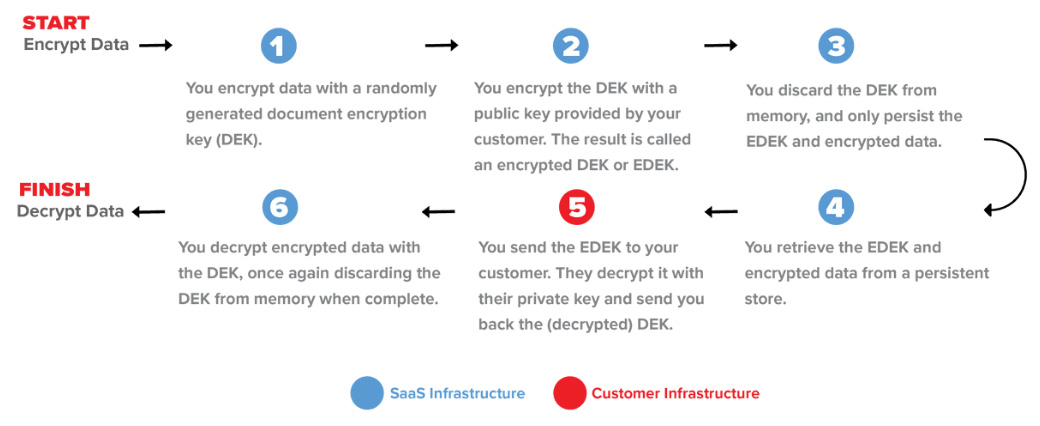 In a less technical explanation, imagine installing a new lock for your main door. However, you don't hand over the new lock and the key to the installer. Instead, you just hand the installer the lock and keep the key. Therefore, you are the only one who can enter your own premises without being afraid that the installer has duplicated another key. The same concept applies to CMK solutions. We just help you to set up your system, but you are the only one who can access your own sensitive data because you are the one who generates and keeps your own key.